Casa Mare
sleeps 6-8 adults, 3 bathrooms
Villa Rosa
sleeps 4-6 adults, 1 bathroom
Availability
Check your dates and prices
Villa Rosa, a superb holiday home in Lecce only 350 meters from the sea
for rental direct from the owner.
Situated in the coastal village of Casalabate, Lecce Province less than five minutes walk to the esplanade and the lido at Hotel Perla, Villa Rosa is the perfect base for couples, families or small groups.
The villa sits in a walled garden, with shady trees on one side and a sunny courtyard surrounding a private heated pool on the other. There is a garage and quiet roadside parking with only a 30 minute drive to the airport at Brindisi. Villa Rosa is very accessible and only a short walk to the sea and the village including its regular markets, small supermarkets, butchers, bakeries, coffee shops and bars.
Lecce Province often referred to as the "Florence of Southern Italy" is surrounded by Brindisi Province in the northwest, the Ionian Sea in the west, and the Adriatic Sea in the east. Lecce is a very popular tourist destination with many beautiful beaches but also includes lakes Alimini Grande and Alimini Piccolo and the 28 hectares (69 acres) protected San Cataldo Nature Reserve along the Adiatic coast of Lecce. The reserve has numerous animals such as foxes, hedgehogs, badgers, weasels, reptiles and birds.
| | | | |
| --- | --- | --- | --- |
| | | | Closed during these months |
send me a quote
price details
Get Quote
Set Dates
Book Now
Promotion
:
for bookings
Book now and get
discount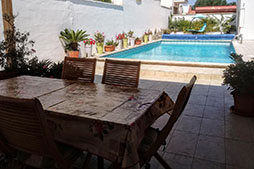 Villa Layout
The villa itself is on one level and has free wifi and air-conditioning, two bedrooms sleeping up to six people, an open plan kitchen/lounge, outside dining and barbecue. The bedrooms have a queen bed and single bed in each and there is a separate shower-room. Baby cot available on request. The garage contains a washing machine and pool games.
The kitchen is well equipped and on arrival you will find a fabulous welcome basket of local produce, including a first meal of meatballs prepared by a local chef and homemade limoncello. Your hosts, Bob and Debbie Lane, will ensure that everything is to your satisfaction and are available to suggest local restaurants, or outings such as boat trips, cooking classes and wine tours. Living nearby they are only a phone call away should you need any further help during your stay.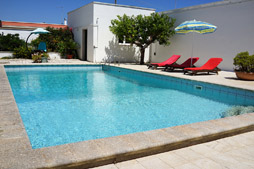 Many guests like to stay and enjoy village life, with days by the pool, buying food, cooking, visiting the beach and evenings spent taking a passeggiata, strolling along the promenade or sitting taking a drink at a local bar watching the world go by. For other, more adventurous explorers Villa Rosa is ideally located for trips into Lecce province and other parts of Puglia. There are fabulous cities and towns to explore, such as Baroque Lecce and medieval Oria or visiting a sagra (local food festival) or dining at a masseria.
For an upmarket masseria, try Tenuta Monacelli, 4.7 km from Villa Rosa (about 7 minutes drive). This beautifully restored masseria (large farmhouse, more like a mansion!) situated in a working estate is a fabulous place for a special occasion. Open all the year round for lunch and dinner, the menu is limited in August, but there is a good selection to choose from during the rest of the year.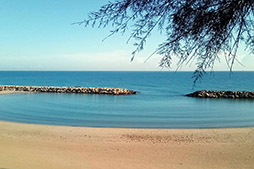 Beaches - with 250 km of coastline, nestling between the Adriatic and Ionian seas, the Salento region has many beaches. While the villa is right on the seafront, the best beaches for swimming are located a short walk away along a seafront path. Only two minutes walk from the villa there is a small uncommercialised sandy beach, where we spend most of our summer days. Between the sandy stretches there is also a small reef which is great for snorkelling while the countryside to the West is ideal for cycle rides. Up and down the Adriatic on the east coast of Puglia, and the Ionian on the west coast, there are many, many beaches to discover. From nature reserves with wide expanses of sand and sea to commercialised lidos with facilities, from small sandy bays to rocky inlets there is something for everyone.
Those who like exercise will find there are miles of walking, cycle routes and the attractions of kitesurfing and beach swims. The coast at Casalabate is enjoyed by fishermen and divers and there are sandy beaches to explore nearby within 15 minutes walk or 5 minutes by car. Sun Beach Club is 1.3 km, 15 mins walk, Lido Exotic is 1.7km, 20 minutes walk. Sun Beach Lido can be found on the outskirts of Casalabate. In the main season sun-beds and sun umbrellas can be hired by the day or by the week. There is a small beach bar and within the lido complex itself a restaurant serving mainly pizza and fast food. There are also toilet facilities. There are free sandy beaches either side of Sun Beach Club.
Location
The villa is in the coastal village of Casalabate in Lecce province within a few minutes walk from the sea. There are many shops and restaurants in the village within easy walking distance.
Show the road map to see the villa location from Brindisi.
Show the villa on the map to zoom up and see the position of the villa next to the sea.
Short walk to the sea
Private heated pool
Garden and terraces
Barbecue grill
Sun loungers
Free Wireless internet
Fully equipped kitchen
Air conditioning
Laundry facilities
Free self parking
Designated smoking areas
Coffee maker
Fridge/Freezer
Towels and linen provided
Dishwasher
Cookware, dishes, and utensils
Flat-panel TV
Pets accepted, €10 per pet
Long Range Weather Forecast
Click on this link to get a weather forecast for the next six months for the Lecce, Puglia area.
Services
Private Chef - meals can be cooked for you in-house by a private chef service and for evening dining on the terrace.
House keeping - cleaning before and after you arrive is included in the villa price. Additional cleaning is available as required at a €15 hourly rate.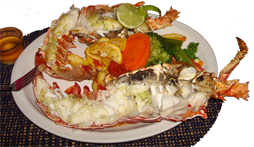 Restaurants nearby
There are many restaurants in Casalabate within walking distance from the villa and others within a short drive: