About:
Debbie and Bob Lane,
after spending several holidays in the south of Italy, retired early, sold up in the UK, and moved to Puglia in December 2005.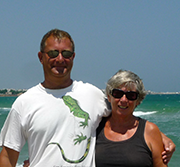 They bought and completely rebuilt two villas on the southern Adriatic coast of Italy, Casa Mare and Villa Rosa.
The rebuild was finally completed in 2008 including conversion of the lower level of Casa Mare into an apartment where they now live.
Located on the coast Casa Mare is right on the seafront, only 30 meters from the sea, while Villa Rosa is in the coastal village of Casalabate just 350 meters from the sea. Both villas are within 30 minutes drive from Brindisi airport and are fully rented by holiday makers who return year after year.
The Puglia area, with its many beaches, restaurants and vineyards is an ideal holiday location to relax and enjoy. Covid19 Info

Showing 1-15 of 36 Casa Mare Reviewsshow more

(avg 4.9 stars for 36 reviews)
Oliver Goodson
Sep-2023
Great hosts, lovely location and amazing house. The pool is perfect!
Carole V
Aug-2023
Nous avons passé une merveilleuse semaine dans la maison de Bob et Debbie. Accueillis avec un panier de bonnes choses pour un dîner et un petit-déjeuner complets, et même plus ! Un petit voyage en voiture avec Debbie dans les villages voisins nous a permis de repérer les commerces de proximité et quelques restos bien sympas (si vous aimez le poisson, allez sans hésiter à Senza Stile, à 5 minutes à pied le long de la mer). La maison est super équipée (airco dans toutes les pièces + ventilateurs, lave-vaisselle, machine à laver, grande et superbe piscine chauffée et entretenue tous les jours par Bob, plusieurs salons de jardin et magnifique terrasse couverte avec grande table, chaises et BBQ au gaz, jeux et mobilier de plage, jeux de société, livres de recettes, de tourisme et romans,… ) L'endroit est très calme, bien situé pour visiter des lieux incontournables comme Alberobello, Ostuni, Brindisi, la grotte de Castellana, les magnifiques plages tout au long de la côte,… Et si vous ne voulez pas voyager, vous pouvez sans problème aller aux 2 villages voisins à pied ! Une belle plage de sable à 10 minutes à pied vous attend… Que dire de plus ? Nous garderons un très bon souvenir de cette semaine en famille dans ce magnifique domaine, avec des hôtes à l'écoute, et leurs chats qui sont présents mais pas du tout envahissants ! Merci Debbie, merci Bob !
John Linney
Sep-2022
From the moment we booked the villa, Debbie and Bob were extremely helpful.We arrived at the villa early and Debbie welcomed us with a tour of the villa and a welcome hamper, with lots of home made goodies.We jumped straight in the huge swimming pool and made ourselves at home and what a home it is. Debbieand Bob were always on hand and were ready to help, which was extremely helpful when my car had a puncture. Bob went above and beyond to help by driving with me to the local tyre garage and translating how much the repair would be.The cats were a real treat for us as we are cat lovers. It was like being home from home.If you are in any doubt, don't be, take it from me who can be quite fussy and book this property, you will not be disappointed. A real home from home feel with genuine hosts
Claire and Andy G.
5 visits,

last visit Aug-2022
This is our 5th visit to Casa Mare and again we were not disappointed. We keep returning as we have not found this anywhere else in Europe. The property is home from home with all facilities to live the `La Dolce vita` for your stay. Situated 20 metres from the Adriatic on a quiet road and within walking distance of the small Italian holiday town of Lendinuso. The town has a butchers, bakers, small shops and restaurants and bar. Everything you need to go foraging in the morning, then enjoy the villa and pool in the sun. This is not a touristy area and if you want to experience authentic southern Italian life, there is no place better. It also has the added bonus of Southern Italian prices. Everything Puglian is within a day out and a car is an excellent way to see the whole area, again without traffic and parking problems. Some beaches are within walking distance and numerous ones within a 10-15 min drive. The swimming pool is excellent for adults and children and there is an outdoor patio and gas barbeque for full outdoor living, the kitchen is also fully equipped to cater for the whole family. Great villa, great area, holiday with the Italians like the Italians. We thoroughly recommend it and I know the owners have many repeat guests that have also grasped the ethos of Puglia.
Amanda A.
Aug-2022
Fantastic family holiday in this wonderful villa. We love the location and had a few trips out, we even managed the local Park Run! The only difficult decision all week was pool or sea. We particularly enjoyed walking along the coast path to swim in the bays at Campo di Mare. Debbie and Bob helpful as always. We didn`t want to leave!
Debbie G.
2 visits,

last visit Jul-2022
Our 2nd time staying at Casa Mare and hopefully not our last! The villa is exceptionally well equipped and beds are very comfortable … a rarity in holiday accommodation! The pool is spectacular as are the gardens which surround it. We loved having the cats come to visit us each day, they always found a shady spot. Possibly the highlight of this villa is the Welcome Basket - everything you need for your first 24 hrs (and longer) together with amazing home grown and home made goodies. Our hosts, Debbie and Bob, go above and beyond what is expected. They are on hand to provide useful information when needed but are never intrusive. Looking forward to returning in the not too distant future.
O`Brien
Jun-2022
Debbie and Bob were really terrific hosts and can be truly proud of such a fine villa. As you will see on other reviews , the pool really was fab. Heated just right and was lovely to have a proper deep end and shallow end. I also have never had such a fine welcome pack. One is always tired when arriving and it was great to have truly delicious fresh bread / cheese / Pate / wine etc and also have a great dinner in place for next day with the pasta and of course homemade ice cream. It's even got more than that. Our kids are 14/17/20 I think the area is more suited to families with younger kinds or older couples.as there's not enough variety locally . It's missing local holiday type shops to explore or local boat rides or bike hire etc. Perhaps that changes in July/august. I know more restaurants will open then , Brindisi is great and they did enjoy Lecce great shopping centre and wind surfing near Lecce and boar trip with snorkelling best caves about an hours drive away. We travelled to safari zoo too (expensive trip for 5. 150 in and they wanted another 50 to watch seals eat, felt nearly as exploited as the animals !) All those attractions are a drive away so there was a lot of squashing into car and using google maps.. Ospini really lovely and with lots to se . again a long drive though when the car is packed with teens. Thank you Debbie and Bob. You were great always!
Penny Sonneto
Mar-2021
We love staying with Debbie and Bob! We have stayed at Casa Mare many times and love both the villa and its location. The house itself is spacious and very well equipped. A large kitchen has everything you need and wonderful airy bedrooms close enough to hear the sea at night time, a family bathroom, one room is also ensuite it is perfect for families or small groups. Outside there is a veranda with barbecue, plenty of patio spots for chats or reading, a hammock and of course an excellent pool. The villa is just off the sea front and a short walk from two nearby villages with their shops, restaurants and market stalls. It is a straightforward 40 minute drive from Brindisi Airport and port. Touring by car in the area is always a delight and for those happy to travel there is a wide choice of sandy beaches and interesting towns within easy reach. Bob and Debbie are excellent hosts, making this a real home from home - from the welcome basket to the knowledge of local things to see and do they make any stay in Salento a delight. We really hope circumstances allow us to visit again this year, we miss it!
Claire G
4 visits,

last visit Aug-2020
We have stayed at Casa Mare 4 times over the past few years and still want to return. The villa is situated in a quiet spot yards from the sea. The swimming pool, facilities are great and its just like being home from home in the Italian sun. Great restaurants in local area. If you want an away from it all holiday to embrace rural Puglian life this is for you.
Vivia B.
13 visits,

last visit Oct-2019
This is a superb holiday villa, right on the sea, well equipped with a pool, three good sized bedrooms, large lounge, excellent kitchen and perfect veranda plus lots of other places to sit around the pool. The welcome basket is excellent, Bob and Debbie having lived in the area for many years are highly knowledgable and can arrange great days out such as wine tours, through their contacts. As a keen open water swimmer, runner and cyclist the villa is also well positioned for people that want to keep up their fitness whilst away. A wonderful holiday home away from home on a quiet beach between two small fishing resorts which have restaurants, grocers and markets perfect for those that want to experience the real Salento life.
Janet M.
Sep-2019
This was a wonderful place to stay. House was fully equipped and our welcome basket was over and above anything we expected. House was very clean and spacious with a lovely patio for outside dining. Large pool in a quiet, sheltered garden. Debbie and Bob were outstanding hosts.
John B.
2 visits,

last visit Sep-2019
The villa was well presented with an excellent, well maintained pool. The sea is a 50m walk away. There are sandy stretches as well as a reef which is great for snorkelling. The countryside to the West is ideal for gentle cycle rides.
Harriet B.
2 visits,

last visit Sep-2019
We had a lovely time at Casa Mare. My husband and I came with my son, daughter in law and 2 grandchildren (5 and 7). It only took us 30 minutes to drive from the airport. The villa is very spacious, clean and well equipped. The welcome basket was much appreciated, as we had enough for our first meal, and didn`t have to go out shopping. The pool was warm enough for the boys to stay in for hours, even though the weather at the end of May was not very hot. It was very good to have the pool cleaned and covered every night, and to have an ample supply of towels. Although our boys managed well, the shallow end of the pool was over the head of the 5 year old. Bob and Debbie were always on hand for queries, but otherwise we hardly saw them, so felt quite private. The boys also loved the hammock, and had a lot of fun with the cats. Although the beach is quite narrow, we appreciated the rock pools, and snorkelling over the seaweed, where we saw lots of fish. We did most of our food shopping in the iper coop at Brindisi (excellent), but got very good bread from the local bread shop. We also went a lot to the Gelateria Vittoria in Squinzano which had delicious ice creams and cakes. we also had a good meal in the restaurant in Via Castello in Messagne. My husband and I had interesting trips to Otranto, Galatina, Lecce and Porto Cesareo, and there were many other towns we would have liked to explore. Overall, a very successful holiday, with something for all the family.
Grethic
13 visits,

last visit Aug-2019
In addition to Cipolla Beach, which is unspoilt and on the doorstep, the other beaches in the area are range from simple, to one beach bar to a whole town; so you really can take your pick (Our current favourite is Torre Rinalda, one small beach bar, warm shallow waters, sandy). Towns such as Otranto, Lecce and Gallipoli are well known; also worth exploring are smaller towns such as Oria, which can be incorporated into an out and about day. Other ideas for a different kind of day trip include the various wine and food producers in the area, listed in Sapori e Vini; markets, for there are many [Casal'abate everyday and huge on a Sunday], Sagra (seasonal food based festivals) and various ruins. There is no shortage of great places to eat. Debbie and Bob and the visitors book can tell you where in on form but from simple Mom and Pop style through to top of the range cooking it is all there; plenty of fish and all local and seasonal. This area is very much home to Italian's on holiday, not much English is spoken but people are friendly and if you make even the slightest effort to speak the language you will be rewarded. The shops at Lendinuso include two butchers, a patisserie, with a fruit & veg stall in the morning and a small supermarket so you can get everything you need within walking distance or you can go for a wider range at one of the bigger supermarkets only a few kilometres away. Bob and Debbie provide a fantastic service, above and beyond the call of duty in our case as we had to seek some medical help. The welcome pack means you can knock up a first meal easily, the wine and lemoncello are also very welcome. The Casa Mare Cats have inspired me to start storytelling, so I may be back for a few more chapters!
Frode D.
Jul-2019
The house has all facilities necessary for a comfort and cosy stay. Great landlords! Love to go back.
Showing 1-15 of 36 Casa Mare Reviews
show more