About:
Debbie and Bob Lane,
after spending several holidays in the south of Italy, retired early, sold up in the UK, and moved to Puglia in December 2005.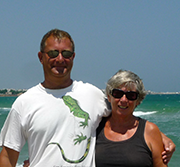 They bought and completely rebuilt two villas on the southern Adriatic coast of Italy, Casa Mare and Villa Rosa.
The rebuild was finally completed in 2008 including conversion of the lower level of Casa Mare into an apartment where they now live.
Located on the coast Casa Mare is right on the seafront, only 30 meters from the sea, while Villa Rosa is in the coastal village of Casalabate just 350 meters from the sea. Both villas are within 30 minutes drive from Brindisi airport and are fully rented by holiday makers who return year after year.
The Puglia area, with its many beaches, restaurants and vineyards is an ideal holiday location to relax and enjoy. Covid19 Info

Showing 1-15 of 27 Casa Mare Reviews
show more reviews

(avg 4.9 stars for 27 reviews)
Claire G
4 visits,

last visit Aug-2020
We have stayed at Casa Mare 4 times over the past few years and still want to return. The villa is situated in a quiet spot yards from the sea. The swimming pool, facilities are great and its just like being home from home in the Italian sun. Great restaurants in local area. If you want an away from it all holiday to embrace rural Puglian life this is for you.
Vivia B.
13 visits,

last visit Oct-2019
This is a superb holiday villa, right on the sea, well equipped with a pool, three good sized bedrooms, large lounge, excellent kitchen and perfect veranda plus lots of other places to sit around the pool. The welcome basket is excellent, Bob and Debbie having lived in the area for many years are highly knowledgable and can arrange great days out such as wine tours, through their contacts. As a keen open water swimmer, runner and cyclist the villa is also well positioned for people that want to keep up their fitness whilst away. A wonderful holiday home away from home on a quiet beach between two small fishing resorts which have restaurants, grocers and markets perfect for those that want to experience the real Salento life.
Janet M.
Sep-2019
This was a wonderful place to stay. House was fully equipped and our welcome basket was over and above anything we expected. House was very clean and spacious with a lovely patio for outside dining. Large pool in a quiet, sheltered garden. Debbie and Bob were outstanding hosts.
John B.
2 visits,

last visit Sep-2019
The villa was well presented with an excellent, well maintained pool. The sea is a 50m walk away. There are sandy stretches as well as a reef which is great for snorkelling. The countryside to the West is ideal for gentle cycle rides.
Harriet B.
2 visits,

last visit Sep-2019
We had a lovely time at Casa Mare. My husband and I came with my son, daughter in law and 2 grandchildren (5 and 7). It only took us 30 minutes to drive from the airport. The villa is very spacious, clean and well equipped. The welcome basket was much appreciated, as we had enough for our first meal, and didn`t have to go out shopping. The pool was warm enough for the boys to stay in for hours, even though the weather at the end of May was not very hot. It was very good to have the pool cleaned and covered every night, and to have an ample supply of towels. Although our boys managed well, the shallow end of the pool was over the head of the 5 year old. Bob and Debbie were always on hand for queries, but otherwise we hardly saw them, so felt quite private. The boys also loved the hammock, and had a lot of fun with the cats. Although the beach is quite narrow, we appreciated the rock pools, and snorkelling over the seaweed, where we saw lots of fish. We did most of our food shopping in the iper coop at Brindisi (excellent), but got very good bread from the local bread shop. We also went a lot to the Gelateria Vittoria in Squinzano which had delicious ice creams and cakes. we also had a good meal in the restaurant in Via Castello in Messagne. My husband and I had interesting trips to Otranto, Galatina, Lecce and Porto Cesareo, and there were many other towns we would have liked to explore. Overall, a very successful holiday, with something for all the family.
Grethic
13 visits,

last visit Aug-2019
In addition to Cipolla Beach, which is unspoilt and on the doorstep, the other beaches in the area are range from simple, to one beach bar to a whole town; so you really can take your pick (Our current favourite is Torre Rinalda, one small beach bar, warm shallow waters, sandy). Towns such as Otranto, Lecce and Gallipoli are well known; also worth exploring are smaller towns such as Oria, which can be incorporated into an out and about day. Other ideas for a different kind of day trip include the various wine and food producers in the area, listed in Sapori e Vini; markets, for there are many [Casal'abate everyday and huge on a Sunday], Sagra (seasonal food based festivals) and various ruins. There is no shortage of great places to eat. Debbie and Bob and the visitors book can tell you where in on form but from simple Mom and Pop style through to top of the range cooking it is all there; plenty of fish and all local and seasonal. This area is very much home to Italian's on holiday, not much English is spoken but people are friendly and if you make even the slightest effort to speak the language you will be rewarded. The shops at Lendinuso include two butchers, a patisserie, with a fruit & veg stall in the morning and a small supermarket so you can get everything you need within walking distance or you can go for a wider range at one of the bigger supermarkets only a few kilometres away. Bob and Debbie provide a fantastic service, above and beyond the call of duty in our case as we had to seek some medical help. The welcome pack means you can knock up a first meal easily, the wine and lemoncello are also very welcome. The Casa Mare Cats have inspired me to start storytelling, so I may be back for a few more chapters!
Frode D.
Jul-2019
The house has all facilities necessary for a comfort and cosy stay. Great landlords! Love to go back.
Debbie G.
Jul-2019
Stayed for 10 days at the end of June and wished it could have been longer! This is a fantastic Villa with everything (and more) you could possibly need. Even the beds are comfortable which in our experience is a rarity! The Welcome Pack on arrival is superb, particularly the meatballs and Debbie's Orangello (very potent). Debbie and Bob are fantastic hosts and made us feel like family. Their knowledge of the area is invaluable .. lots of tips for places to see and restaurants to visit. We particularly enjoyed the heated pool .. none of that having to psyche yourself up to get in it in the morning! As we are all cat lovers if was so nice to have visits from all the beautiful cats that Debbie and Bob have rescued and take such good care of. I so wanted to bring Bonnie home with me! Also loved the shady area by the outside bar with the hammock. It was extremely hot while we were there and this was a perfect place to relax with a book. The Villa is an easy walk to several good restaurants and plenty of local shops nearby to replenish stocks. We would just like to say a huge thank you to Debbie and Bob for making our holiday extra special and hope to be back again before too long! Debbie, Alan, Andrea and Andy
Ingvild S.
Jul-2019
We stayed a lovely week at Casa Mare in July-19. When we arrived we were met by the owners who showed us around the property. In the kitchen they had placed a basket full of all we needed to settle in and have a meal with spagetti and homemade meatballs. There where also everything we needed for a breakfest the next morning, fruit, bread, homemade jam, water and bottles of chilled wine. Kitchen is well equiped with all you need, even a coffeemaker! The bedrooms have aircon and good beds! It was also great to have 2 bathrooms, since we travelled with our two teens. The outside are lovely with a good sized pool and a great garden. We all found a favourite spot to sunbath, play or read a book. The area of the house is calm and quiet with the beach only 50 meters away. Walking distance to the village with bakery, butcher and gelato. We are dreaming to go back and spend more time in Casa Mare, hopefully very soon. Ingvild & Frode
Tamara Brown
Jul-2019
We had the most beautiful week at this villa. We had a lovely pool and we were a minute away from the beach and a short walk to the town. Debbie and Bob are the perfect hosts and were so helpful from start to finish. We arrived to a fully stocked fridge and some homemade meatballs! The villa was clean and spacious and Bob and Debbie were able to direct us to places to visit and where to eat. My sister was turning 40 and they organised a chef to come to the villa and serve us a delicious authentic dinner. This place is a little gem and I would love to return! Five stars!
Madeline R.
Jun-2019
The villa was well equipped for cooking, reading, lounging or even games on a rainy day. Debbie and Bob were always available for questions and suggestions. Since the weather was a little cool when we were there, we did a lot of sightseeing trips to the nearby towns of Alberobello, Lecce, Ostuni, Otranto and a few more. We also enjoyed the cooking school day and our trips into the market at Casalabate and walks to the nearby villages. Great house, great hosts and a great trip. Thanks for a wonderful stay.
Jane W.
4 visits,

last visit May-2019
We have made several visits to Puglia and the wonderful Casa Mare, and cannot recommend it highly enough for both the area and the fantastic Villa and superb hosts Debbie & Bob. Perfectly situated, inches from the beach and with a huge swimming pool, this Villa is so well stocked for all needs, its spacious and has the best equipped kitchen of any Villa we have stayed in. We wanted for nothing, over the years a few welcome beach bars, restaurants and cafe have sprung up along this coast line and it really has enhanced what was already a great relaxing location. We love exploring the area with Lecce very close by and even made it to Galatina for an outstanding meal, no menu just served what was fresh from the garden and Gallipoli a must for the sunsets, but there are a hundred and one plus amazing, unspoilt places to visit in Puglia and Casa Mare is the perfect base to do it from, easily accessible from either Brindisi or Bari airports. Enjoy the beach, the bars and restaurants the local produce from the market, the wonderful towns and villages, the excellent fresh uncomplicated cuisine, the weather, the sea, the great pool, the tip top accommodation, the outstanding natural beauty of the area, the unrivalled history in all of the towns, and the knowledge of the area from Bob & Debbie, we really have missed not being able to visit in the past year, but will be heading back as soon as we possibly can, as the saying goes. `what more do you want?` our answer `Not a thing`
elizabeth c.
Jul-2017
We loved the villa. It had everything we needed and more. It's set in a peaceful walled garden with lots of seating areas and a fantastic pool. A very relaxing place to stay. Debbie and Bob are great hosts and were on hand whenever we needed advice or support. They provide a really generous welcome basket which was greatly appreciated.
Linda G.
Jun-2017
The villa met all of our expectations (from owners description and previous reviews). A lovely beachside location, a stone's throw from a secluded beach with crystal clear waters. The villa has a fabulous heated pool which meant that we could swim very comfortably in May. Inside, every room is spacious and extremely well equipped. The owners gave us a much appreciated welcome basket which included some lovely local produce. They were always around to give us any advice re restaurants, places to visit, local tips etc. A fabulous holiday for my families' celebration of my husbands 60th birthday.
Tina L.
May-2017
Casa Mare has it all - we really enjoyed our holiday and were sad to leave. A lot of it was thanks to Debbie and Bob and their welcoming home where everything was ready for guests. We especially enjoyed the wonderful welcome basket that made us feel on vacation immediately. For the first time on our travels in many countries we felt that everything was perfectly organized for our stay. We hope to come back again one day, when we can!